Lightworkers STRIKE back @ Gaia TV: The Force Woke!!
Given the Sexual nature of this Title, that was what "They" call a Hook. Did it grab you? I hope it Did not Fondle you Inappropriately. 
David Wilcock… I am Korinne WILson, so we have a few Mission things in common. There are many Easter Eggs, in a Name.
I have spent the last TWO years of my life in the Los Angeles "DISCLOSURE" + "NEW AGE" Community. My mission, or Call from God, told me to go to Hollywood, and take over the Media. Game ON! Escorted By GOD, I made it into the Winners Cirlce, into the Inner Sanctum ~ Jimmy's Church "Fade To Black". I have no Book, no real Product to speak of, I AM ME. I AM THAT I AM.
I have 'Broke Bread' with these people, as my tribes say. I am an Open Psychic channel, fully aligned starseed Priestess of Sirius B. I see a LOT more than the Average bear. Once my Heros of Consciousness, the LOS ANGELES COMMUNITY, a BIG DREAM I built up in my head. I thought they were THE MOST ADVANCED people I was likely to find. Naive much Kore? Yes, Always.   I trust and believe in Fairies, it's Just Who I B.
This is Not my Expose on the Community in LA, which rules the greater community, through MEDIA. This is a Collection of Real Life Posts, by Real Life People Involved with this Community.
I have been a Community Leader – I have my T-shirt and scars on my back, from Knives to prove it. (See my RESUME) Therefore I have been TRAINED to be CONCERNED about this TOPIC.
Lightworkers STRIKE back @ Gaia TV: The Force Woke!! 
David is Pulling a "PRINCE" move. SLAVE across his face.
He also calls Gaia Satanists. LOL YES !

MY POST: "Therefore the Company (GAIATV) was apprised at the very beginning that the Ancient Civilizations program was promoting Lucifer…" See Arthur C Clarks "Childhoods End" to Discover the Greys are Demons of Lucifer. 
I met a main Gaia management dude. Never being a fan of Gaia, I told him, I got a friends password to do research on the community. (Honest theif) He showed me a commissioned painting of his alien abduction, looking like an anal probe session. He praised the Greys, as dry thinky gods, a goal to become.
Oddly enough Magenta Pixie, had just posted something very relevant, and many lightworkers commented, and sent energy- July 2nd, and then this happens. Our Love power is growing. 
From my friend, Radio Host, @JimmyChurchRadio submitted 4 hours ago * by Disclosure_Activist "First of all, let me say that the so-called "Gaia Employee Movement" has nothing to do with Corey Goode, nor with me." Getting Hot William Henry
The Community Exploded!!!!!!!!!!
PETRA MAGENTA PIXI WAS FIRST ON THE SCENE: Days Before the Event! Psychic News!
 Pixie: July 2 : Lots of negative comments about David Wilcock all of a sudden. This man is a dedicated lightworker and starseed with a very open heart. I have met him personally and he is fully polarised positive, service-to-others and holds the diamond light. Just assisting with the collective lesson in discernment we are currently experiencing and letting you all know that I shall continue to re-post updates from him. Blessings.
I Said: "Edgar Cayce will be OKAY! (He's just up to no Goode)"
Then David Sent the Resignation Letter, which Crossed Laura Eisenhower Desk + As well as the Church of Jimmy.
The Community was alerted of the NEWS.
See Below for the SCORE BOARD. 
This once held the Thread of Wilcocks Resignation and Has Been Deleted. Letter SPOKEN in Video Provided Below: Under Community #GEM
GRAHAM: 
Be Careful of Lucifer!
Responding to "LUCIFERIANISM"
COMMUNITY:
Aurora The Amazing Rainbow Lasagna lady! "This just makes me mistrust Pixie…..
DW has been compromised since he cried that his life was being threatened. He's a participant in the satanic/luciferian culture, not a critic of it; they paid his bills and he promotes their crap narrative about the SSP and Blue freakin' Avians from the 5th dimension here to assist humanity."
I said:  You make good points. Spy VS Spy in the house of love. I always believed David really is Edgar Cayce, therefore a reincarnated Atlantian, therefore not a fake. Being misguided, making mistakes, that is human, not necessarily evil. I see a Much bigger game playing out here. New Media. I've been saying for years there are 2 Illuminati, and there are Double Agents of both. Pawn, being played in a bigger game of Heaven vs hell.
+ I added: I am Also a Big Fan of William Henry's Work, and he writes Most of Gaia's stuff. I learned about Atlantis, Gaia/Sophia Demiurge (Gnostic) + The watchers from William. Things I would never seek on my own. He understand Ascension is the Activation of the Rainbow light body mer-ka-ba, and not a transhuman robot hybrid person. The "Skingularity" a free book, about the singularity, as we know it – The Zero point, of the Maha mudra. The blending of all opposites, which is coming.
Aurora : So, David Wilcock is finally admitting that Gaia(m) TV, the people who have been paying him for years, are actually freakin' Luciferians! Cry me a river, David, as you attempt to make a "quick, quiet, and polite exit" from the evil (literally) company that conveniently paid you a lot of money.
*he's afraid this might harm is professional reputation 
😂 
😂 
😂
Video worth watching, it's DW's resignation letter from Gaia, and has some juicy tidbits; don't let this guy slide and give him a free pass, please hold him accountable for his actions and stop giving him any credibility or attention.  Comments on youtube are gold, especially the ones which recognize DW is a rat deserting a sinking ship, that he was happily aligned with the aims and end goals of Gaia TV and he's one of the people who "never thought she would lose" and was planning on being a major figure in Podesta's fake disclosure with the crap rocker from Blink 182.
The Outspoken, Sarah Adams & Very Pretty:
Patty Greer who started Gem against Gaia is simply mad because her series got no views she also tried to get some money from them and got mad when she found out I was doing a series for Gaia she than attacked me posting I harmed my partner who passed away and took it down once I faced her up i told her she should stop spreading insane rumors about me like the rest of the crazy jealous women who were mad that max loved me
I usually don't speak on too many personal things but people need to know the truth about this
She worked on crop circles she should have learned somethings from that
Atleast to act better
I honestly am a lone gunman I'm all alone purposely I've found it hard to trust people in my field after being attacked when I was in a bad place after losing max and I was terribly sick many of the people in my field proved go be awful and I was disheartened about this I like being blunt truthful and vocal other speakers were awful
And I'm going to be more vocal
Also some of these people just want to get out of their contracts and get into mainstream tv they really just want to be famous like the people they claim they hate sadly
Sarah R AdamsJuly 6 at 5:31 PM · Gaia has treated me well. They are kind and caring I feel as if there is an effort to take them down because they are doing alot by bringing out much information. Patty Greer viciously attacked me claiming I hurt Max and now she is attacking Gaia because she did not get what she wanted from them so she is acting a huge fit out. I also have a suspicion that some people were sent to infiltrate Gaia and bring it down from within. I checked out some of the people astrally and saw they have dark contracts I also find it strange that one of the quote insiders lived over a base and I saw him shapeshift into a sub species created by draco those specific sub species was created as chess pieces to be placed and used for negative purposes. They are professional and seem to be the best platform for alternative media we have this instant so I stand in full support of them…
A Post on Sarah's Post:
Gaia TV as far as i could throw them…just a new age money making racket.
Here is another who doesnt trust Gaia…apparently just turned down a 6 figure salary from Gaia…
A MUST READ!! https://www.facebook.com/anyextee/posts/1852568464781821
Next Anyextee Posted 8 hrs ago:
Ask me why I turned down a six figure salary position working w/ GAIA after the CEO flew my wife and I out to their headquarters in Colorado?
And I'll tell you… It's because I'd rather be broke and have a whole lot of respect.
But I'll never be broke because I already have everything I'll ever need inside of me…. If you don't have this very basic occult understanding then they will take advantage of you and prey on you. They prefer you to be mindless rather than mindful, present and aware. That's how they can manipulate you. And if you are broke and depend on money and have no vision for how to do it all on your own than they have you right where they want you. Have the courage to stand on your own. Believe in yourself. When the whole flock goes left, don't be afraid to go right. Why fit in when you are already a stand out? Don't ever think you NEED a major company to support you.  Especially one whose intentions are not pure. Researchers and authors typically make little to no money.  It's very challenging to sustain your passion.  Even "best selling authors" have day jobs and drive 10 year old cars. Truncated:  It's the reason why my record label was among the pioneers to first sell digital albums when ppl thought CDs held the value. Today it's an industry staple to put out digital music. It's the reason I later launched the HipHops genres first digital store, label, and marketing platform before Amazon even launched their digital music store and i never gave into the major labels.
Truncated:  Did you know that P Diddy tried to steal artists that were signed to my label? He literally flew out for one of our shows and came on stage uninvited to position himself next the artist I had invested time, energy, money into and worked on developing. Good thing I had a contract! Did you know that Wyclef Jean almost bought out my company in effort to have me work at his? What I'm getting at here is that this isn't my first rodeo….
Truncated: You don't need these corporations.  In fact lack of financial resources should inspire your creativity. Hiphop culture is born from this mindset. Lower income housing projects in the Bronx where ppl have little to no resources used their creativity to counter lack of financial resources and created an entire culture that corporate Amerikkka first labels a fad before exploiting for generations to come – and still exploiting today. Simply because someone got creative and decided to plug two turn tables into a lamp post outdoors. GAIA knew about my history in the music industry and the fact that I built a multi million dollar company with no outside help.  They knew what i was now building with Adept Initiates and Ancient Egypt Mystery Schools and thought It may be a good fit for them until I made it clear that I'm nobodies puppet. I was disappointed by what I experienced at GAIA and my meetings with the CEO. After spending over 20 years in the music industry this so called "conscious" space is a walk in the park. Further, I'm an artist who loves music so I naturally look for the patterns… So when the patterns and cycles repeat themself in this space I can quickly identify them. Why do I think I withdraw from CITD and refused to work for GAiA? It's not about money. It's about my inner self not resonating with the bullsh*t they are perpetuating or what I believe are the underlying intentions behind it all. Truncated: I'm confident I can stand alone and be just fine. I will do just as i have done in the music industry. I will create a self sufficient platform that innovates. And I know what my intentions are. Truncated: As a mystic I practice daily doing the work to condition myself to be a vessel built to allow the divine to flow through it. The source. The creator. Therefore I will forever be creative. I have a big picture vision. It's crystal clear. I believe in myself and what I'm doing.
I'm what you call self sufficient and independent. And I won't compromise my moral compass by creating false narratives for a pay check.
I'll never need to depend on the "say aliens" crowd for a pay check.
When I was in the music industry the major labels hated me.
Why?
Because I innovated and created a platform for other independent artists to thrive in a way that no one else before me had.
So what did the stiff corporate crumbling dinosaur move making major labels do?
They invited me up their offices.
They inquired about my strategies. Truncated
I said: Thank you Next Anyextee. I experienced a lovely education through your EPIC post! In the tradition of Bill and Ted, I do believe Music will 'save the future' (Radio Free Albemuth). I am happy to be your FB friend. Join our Oral tradition order, of Hermetic Gnosis, the Music Party, if you feel the Call of the DJ 
  THEN HE JOINED US, and I Invited him to be the FIRST Musical Guest in THE KOSMIC KORE chat show! 
https://www.facebook.com/groups/1437238789883269/
Laura Eisenhower Posted: I am sitting back and watching.
"Azreal was originally a muse like his "sister", Serendepity and he was from Heaven too. Ages ago, Satan (originally known as Lucifer) started his war for his place as God's usurper and the new ruler of Heaven. Heaven itself was divided into two armies: the faithful and the renegades. The Ethereal Plains were filled with the chaos of the battle as angelic factions from both opposite sides fought. Azreal refused to fight, seeing that an artist doesn't destroy. When the fight was over, God cast him to Hell, because of his refusal and neutrality."
ACTUAL ANGELS TAKE NO SH*T: GAIATV MEET MOOBIE
BUDDHA BOYS: "Well, I'll be calling out you people like a casting call~  I've got NEWS for you CREWS, you'll be sucking like a leech~ WHERE'D YOU GET YOUR INFORMATION FROM? U THINK U CAN FRONT WHEN REVELATION COMES? Yeahhhh YOU CAN'T FRONT ON THAT!"
Randy Maugens: 
offplanetradio.com
To all who are posting/reposting this alleged resIgnation by David Wilcock from Gaia TV:
First, I wish to not offend those who sincerely value truth and honor in the alternative media. That said, I think the circumstances surrounding this "leaked" email wreaks of service-to-self, promotional back-patting, and a fairly liberal interpretation of facts not entered into the record. I have to ask: Why has David hidden behind this alleged group of Gaia TV defectors? While I am aware the group does, and has existed (their LinkedIn page was taken down before I could screenshot) and that certain facts, noticed in this email, are part of the complaints being leveled at Gaia TV; I think it is safe to assert that in this age of meme hijacking, it is entirely possible for important work, done under cover for protection, to be exploited and/or co-opted.
Read in its entirety, this email mentions nothing about the Gaia TV employees who have been grievously harmed by Gaia's practices of privacy violation. I have been in possession of reported incidents of flagrant misuse and outright abuse of certain "medical" practices by a now resigned medical practitioner employed by Gaia. That these gross violations were silenced and covered up by high Gaia execs, and denied as "rumors". That Gaia is, demonstrably, in possession of dangerous energy weapons and human tracking software that has been deployed both maliciously (I received first-hand account of a subject whose dog was killed, and she, herself partially blinded by such an attack), and, supposedly, for "benevolent" purposes as detailed by Gaia's diva, Regina Meredith. I, myself, believe I was hit with a weaponized cyber attack last year while recording an interview with Patty Greer. This resulted in internal bleeding in my right ear and has been documented.
Does David ever mention, in his constant references to "Luciferian" practices at Gaia, that it has been publicly known since before 2012 that Gaia CEO is involved in all manner of dark practices? That this has even been referenced in public documents by Stan Tenant in regards to his successful lawsuit with Dan Winter over plagiarized materials? So—are we to assume that David, in ALL his ponderous glory, knew NOTHING about these reports before he signed a lucrative contract with Gaia in 2013? David, I will remind you, was involved with the UFO cult intelligence operation run behind Carla Ruecker and the LAW OF ONE channelings.
Has David, anywhere in this meandering "resignation" bothered to stand up for any of the people who have been economically, personally, and socially stalked and harmed by Gaia? That David has been well paid as "talent" by Gaia, for going to and recruiting a delusional, pathological liar named Corey Goode, to concoct a version of "Secret Space Program" that glorifies corporate-military mind control operations, and tacks on the ultra new age blathering of the "Blue Avians", who loosely mimic Carla Ruecker's RA teachings? I could go on, ad nauseam, but I think you get my points.
The larger questions are: WHY has the alternative media press just sucked this information up and spit it out without any due diligence, journalisitcally or with discernment. Why are we accepting information from a vacuum? Can ANYONE provide documentation, even facsimiles, that validate sources and reasonable proofs as to the origin of these "leaks"? An email with verifiable header data would go a long way here…But, these random, cryptic, insider one-liner releases? Really? THIS is what passes for media in 2018?
Passing on third hand emails with no validation, no second or third party witnesses? Nothing but fluff and mild accusations ALL about money?! To push out into the already fragile (by my estimate) consciousness of the so-called "awake and aware" crowds that, yes, once again, good old David leads the way out of darkness. When Wilcock, himself, has been the orchestrator of one shitstorm after another for over 15 years. (Let's not forget his melodramatic "crying game" show with Kerry Cassidy, when he claimed he received a death threat…).
Would not it be reasonable to expect that Gaia, a company notorious for its onerous contracts and litigious practices, would not even blush at how their "star" resigns via a rambling email screed? Can we presume that—his contract is either over, or he was terminated? Corey Goode's lawsuit: do you really think anyone wants to risk putting Goode in a courtroom with a civil trial, where depositions will be taken? Think this out… And then there is Emery Smith…and the Pete Peterson debacle…oh, and unfortunate that William Tompkins expired (on an eclipse) after confiding a source in Las Vega, at MUFON, that he didn't buy Corey's story??? Coincidence, I'm sure.
In the interest of all those grievous injuries to Gaia's present and former employees; of all us who have been targeted, stalked, attacked— whether by technology or coven level witchcraft—and maligned by the vampires in the closets at Gaia; for those in/or survivors of, clandestine military-intelligence-corporate mind control programs, including the "real" Secret Space Program (SSp); can we please use discernment and better practices of journalism?
IF this email does, indeed, emanate from David Wilcock, WHY does he not voice these words to be heard? In an open forum where critical questions can be asked (like mine above). Not Jimmy "Fade To Black" Church. Not the sycophants of Jordan Sather or the "Stillness In The Storm" blog. This is all a bit like the classic game of "Operator" (hmmm….), a bit too precious. So 4Chan…so "Q ANON" like. And—it is bullshit.
Whether the email came from David, it is still an empty, vacuous piece of more ego-driven self propaganda. That may be WHY I find it at all valid, On the other hand, I suspect the stakes are high enough that plausible deniability is built-in to this epistle. Either way: David wins! And so will Gaia, because the REAL injustices are nowhere in sight here.
#GEM also needs to step up their game and talk: with safeguards in place. They need to validate their claims and stop playing cryptic. The alternative press needs to start demanding better sources, and STOP circulating fabricated press releases as heroic. THIS is a snakepit. It all needs to be pulled out from under its rocks, exposed, and burned (metaphorically, of course).
My platform is open to anyone who wishes to bring forth facts relevant to the situation @ Gaia. I have a reputation for being discrete, critical, and open to all sides of a story. Subject to proof. If not me, I hope you, who have similar platforms; will start asking these questions, and subjecting celebrity gurus to very steep skepticism. I support any/all of you and hope the above, while long, to be provocative. I welcome any feedback, corrections, or criticisms. ~ Randy
~
The GREAT DIVIDE has Begun! Thank goodness, because I was getting stale, like a Rose Growing Old. This GNOSTIC SCRIPT is too Boring for me. Give me GREECE BACK! Oh the LAMENT of HERMES! 
My community 'foresees' a coming Fake/Archonic Alien invasion, and a False Alien Messiah. I FOUND SPACE JESUS, he was Revealed Years ago in this video. Authentic or Cloned? The Brand 'Hates' on Trump(ets) & Loves Science intellect (Yoga?) @rustyrockets
Although I am CELEBRATING HEROES in this post.. I could Not Resist a SHOUT OUT to the FALSE PROPHETS.
#SANPEDRO
UPDATED: 2/2/2019
C.W.CHANTER:
+
Thieves in the Temple- all day long.
Getting to KNOW YOU… Getting to KNOW ALL about YOU… #Community 
The Occult Priestess: Adventures in Babysitting:
"That's Not THOR honey." 😦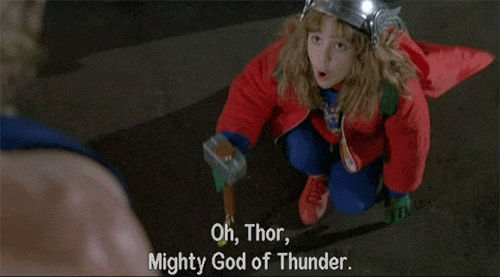 I DO ALL MY OWN STUNTS
CALIFORNIA OCCULT GRL: PARTS 1 and 2 
REPORTING FROM THE FRONT! Boots in the SKY! FORCE FIGHT! Dark Vs Light in the Ultimate Higher dimensional showdown. Game On for 

#

Lightworkers

! Manifesting in your collective (muggle) Reality in 2019. (The most recent TRUMPet: "War Bugle, an item available in Dragon's Dogma." <– pop culture "The Jelling Dragon – Viking horn bugles." <– actual) Will Tall White Viking Supremacists Aliens Win? R U 

#

Sirius

?!
~ Fin ~